Services
From automation of manual processes to deeper real-time insights about your operations, and enhanced customer engagement, digital transformation has the ability to touch every facet of your business.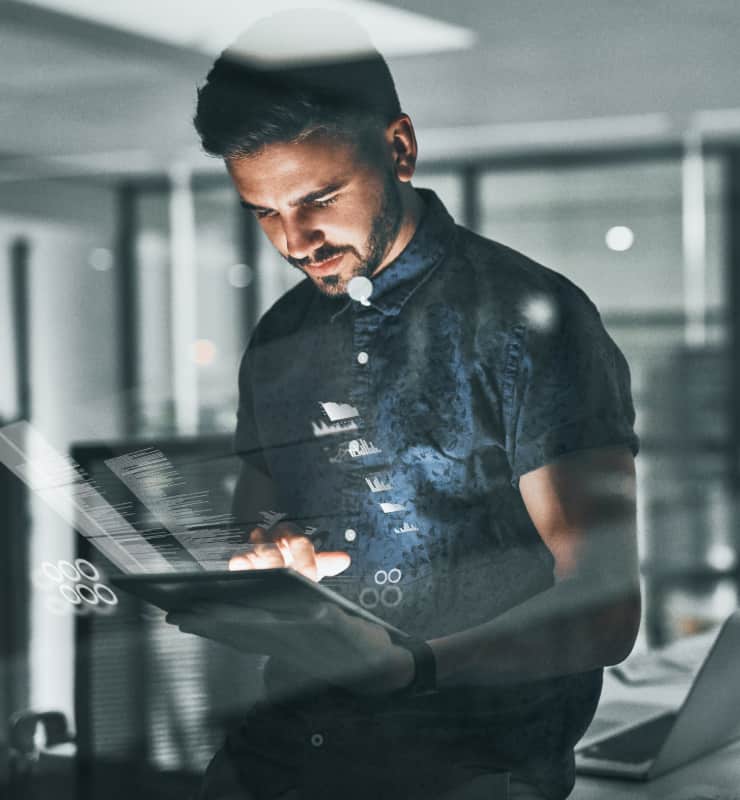 Technology consulting
We strategize using technology to realize unprecedented value for your business, and gain invaluable insights to your specific problems with our carefully-crafted designs.
New concept development
With our systematic approach for generating innovative ideas, we deal with the problem at hand with our eyes set firmly on the future. While developing a business-effectiveness strategy, we create sustainable solutions. We work closely with our clients to understand their metrics and create a proof-of-concept meeting their gold standards. By constantly working to improve the process, we prioritize our clients' business demands and build the solution that drives tangible value.
Business process automation
Building automation processes to streamline your complex business processes and achieve simplicity, improve efficiency, and minimize costs, all while having the necessary risk mitigation controls in place is a core skill we bring to the table. We drive process improvements to boost productivity, to ensure best practices are implemented and to make the processes error-proof. By incorporating appropriate tools and processes, we create unparalleled automated workflows to route the right information to the right people at the right time, to make the lives of employees and clients better.
Project management consulting
There's no denying that each project is one-of-a-kind, as are the complexities that come with it. We approach the project management process in a systematic yet flexible manner. This allows us to help you choose the project management style - agile or hybrid - that best suits your project. We maintain focus on identifying a clear and achievable objective through our consulting, while mapping out the stages required to achieve that goal and allocating resources to effectively support the progress through those processes. We apply our risk assessment and mitigation skills to each step to meet any complications wherever and whenever they arise. Our knowledge, based on the lessons learned from previous experiences, enables us to respond with agility to issues and manage the project efficiently.
Platform and product consulting
We firmly believe that there is no such thing as over-preparation. Effective strategy is the first step in preventing and managing uncertainty. We leverage our experiences in B2C, B2B, Cloud and multi-tenant SaaS systems that have helped us deal with the intricacies of setting realistic strategic goals. Our design thinking is built into every aspect of the project - business analysis, user experience design, architecture, execution plan and how it all fits together - all built on the principle of iteration and continuous improvement. We create the most efficient and effective path to achieve the objective, with our continuous feedback loop integral to our processes.
SaaS consulting
We bring stability to the IT product ecosystem by adopting SaaS strategy. We construct an all-around view, by leveraging our expertise on a wide range of sectors and pooling our knowledge. We retain our clients' fundamental value propositions while still catering to the unique demands of each one through the SaaS model. We have learnt from our experience developing SaaS systems that complying with regulations that constantly change expectations is not an option. For us, the key to establishing a successful SaaS model is maintaining scalability, data resilience, and a customer-centric approach at every level.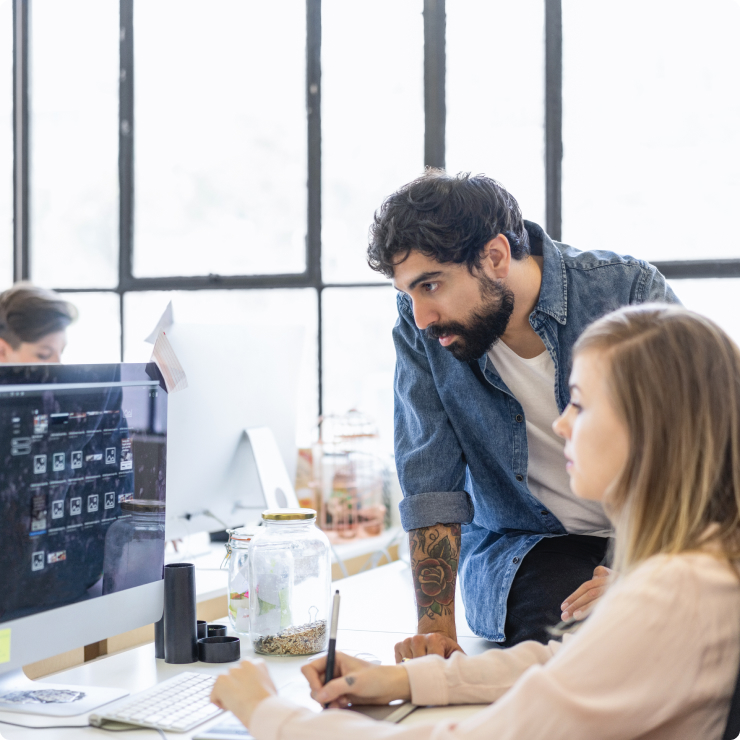 Product design
We design a meaningful user experience and craft actionable solutions, thanks to our expertise in Design Thinking.
Product design is where we carefully bridge the user needs with business needs by ensuring that the aesthetics and thought process of B2C apps are applied in enterprise apps. While most vendors assume employees have no choice but to use the enterprise software, we believe in making that adaptation easier with intuitive designs.
User experience
We drive sales and customer satisfaction by delivering meaningfully-designed, user-centric solutions that enhance and delight your customers. This requires a thorough understanding of the users, their needs, testing, analysis and design iterations. Solutions built with user experience at the core have proven to have a greater degree of adoption and satisfaction along with a shorter time to market. Through early design iterations, this approach of solution building ensures a high-quality end product that saves cost in the development cycle. We can help you to brainstorm and build your own user-centric solutions.
User interface
We boost your lead generation with applications that have an aesthetically appealing and engaging user interface. A thoughtfully-designed, simple and intuitive user interface is key to building delightful products that users love to use. This, in turn, becomes the base for user retention and brand loyalty. What's more, the simplicity of the interface is also a major driver in reducing customer support costs. We are dedicated to building solutions with elegant and intuitive interfaces.
We create a better understanding of your data better with meaningful visualizations. Data visualizations are necessary to ensure that important insights aren't lost. These make data accessible by preventing data saturation, ensuring that the users aren't overwhelmed or fatigued by large data volumes. They also greatly improve the efficiency of decision-making by disclosing and prioritizing insights relevant to the business and help the users cut through the clutter.  Incorporating data visualizations not only brings about a greater clarity to the business processes, but it also reduces the cost by increasing the efficiency of operations.  We'll enable you to spot trends, outliers, patterns and more with relative ease with our thoughtful visualizations.
Solution architecture
Building solutions for complex client needs is a skill we have honed over many years. Having worked closely with clients across several domains, we have built necessary technical competence, learned to deliver performance, develop flexibility and ensure security in the architecture of the tools that we deliver. Our specialists come with a host of expertise that ranges from integrating ready-made solutions to building custom-builds for any client need.
Cloud transformation strategy
Using Cloud solutions, we can help you transform and optimize your business. These solutions bring a series of benefits with them that include a big reduction in IT infrastructure costs, minimal latency in your solutions anywhere in the world, high-speed scaling, low development cost and high-grade security, ensured by providers such as Amazon and Google. By implementing cloud solutions, you can focus your energy on the core of your business rather than wasting time and cost-managing IT infrastructure. With the help of certified professionals in cloud services, we can help you choose the cloud solution that best suits your needs and ensure a smooth transition into a cloud platform that will revolutionize your solutions.
Quality assurance strategy
We ensure that your solutions are free of imperfections. A Quality Assurance Strategy is important to evaluate solutions from multiple perspectives and scrutinize them to eliminate technical issues. A sound QA strategy not only saves cost by shedding light on any oversight, but also adds value by revealing considerations that may give rise to new opportunities. Our Quality Assurance Strategy will not only help you eliminate technical issues, but it will also help you improve your user-experience and your overall offering.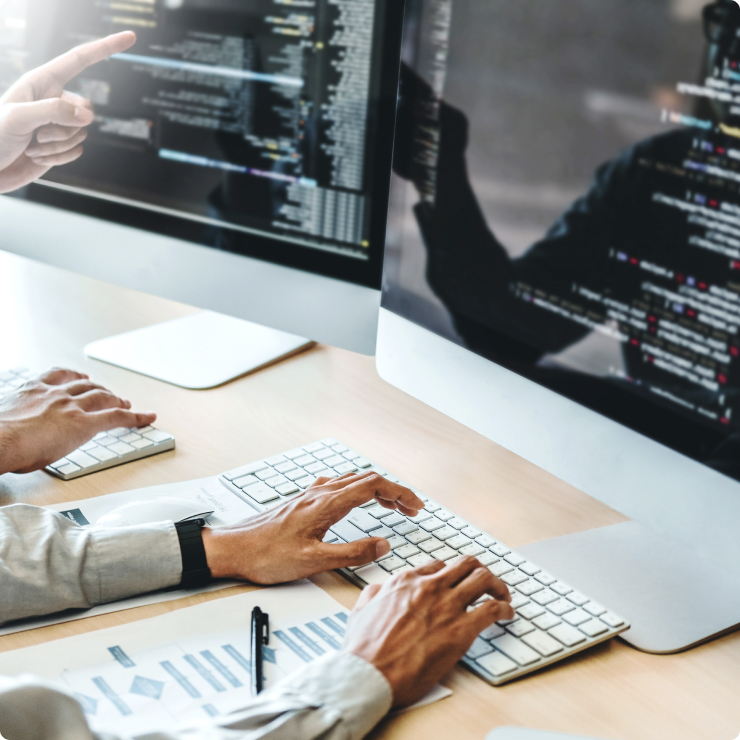 03
Product development - frontend
Product development - frontend
We engineer meaningful software solutions that propel your business forward. Product engineering is the art of developing software through designing, wire-framing, developing, testing, and deploying, taking into account the time to market, superior quality, enabling a solution that ultimately solves customer challenges.
Web development
We build products that your users will love by leveraging our expertise in crafting cutting-edge web solutions. Our technology specialists will guide you to achieve your business objectives while identifying your technology needs.
Mobile app development
Mobile applications play an important role in transforming business processes and are no longer an after-thought. Due to their accessibility and convenience, they have become an essential part every step of the way, from finance and procurement, asset maintenance and supply chain management, to HR, customer service and beyond. We create user-centric mobile applications that drive value for both customers and organisations by focusing on meaningful experience through design thinking, security, speed and accessibility.
Reengineering
Standing still is essentially moving backwards in a rapidly-changing world. We believe that improving continuously over time is as important as designing a good user-experience in the digital world. We understand your product and update it with a customer- and design-centric solution using various frameworks and approaches, led by an experienced team of subject-matter experts. We partner with you through strategy to execution, ensuring we preserve relevant parts of the existing solution while enhancing its usability by powering it with an upgraded design, architecture and additional features that create the impact you desire.
Software testing
Our software testing approach is driven by a belief that avoiding failure points is an easier way to reach success. Our highly-experienced quality team are involved at the early stages of the design & solutioning. This helps in the detection of bugs and edge cases at the early stages and reduces cost and time-to-market by avoiding surprises at the later stages, all while ensuring that test case/result maintainability and ease-of-troubleshooting is addressed. We provide a comprehensive range of testing services like - Test strategy & planning, Test execution (automation and manual), Test support and process management.
Business intelligence
For us, Business Intelligence is the art of converting data into useful information, which, when done right, empowers a business to make the right decisions. We help you expand the focus beyond reports and dashboards by providing an expert end-to-end service and support. We work with you as partners in exploring the business needs of various stakeholders, identifying the right BI platform, strategizing and recommending useful metrics. We implement the complete solution from data collection, cleaning, transformation to visualizing, testing, reporting and automating the process.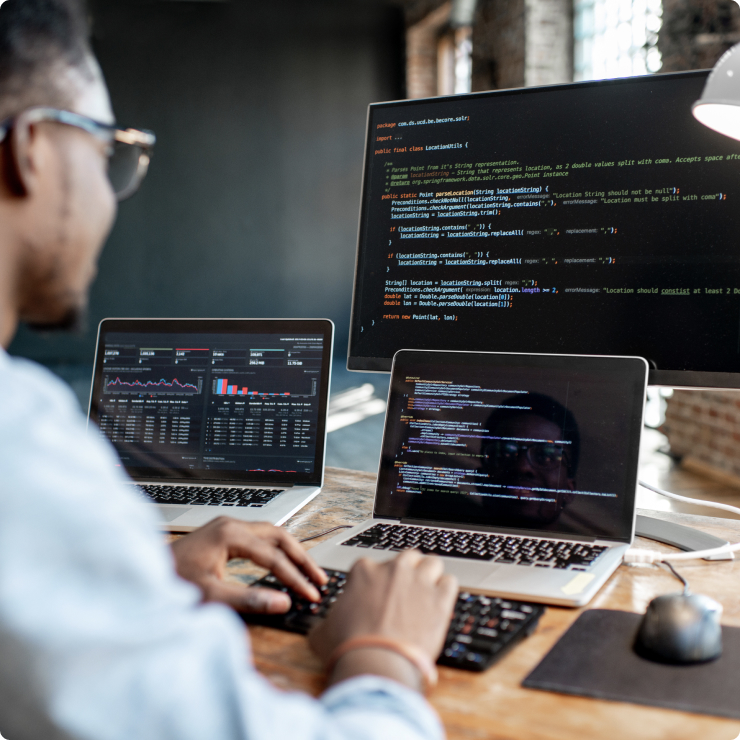 04
Product development - backend
Product development - backend
We engineer meaningful software solutions that propel your business forward. Product engineering is the art of developing software through designing, wire-framing, developing, testing and deploying, taking into account the time to market, superior quality, enabling a solution that ultimately solves customer challenges.
Server-side development
We efficiently deliver user-customized solutions, along with enhanced user-experience. We understand that each challenge faced by our clients is unique and needs a tailored solution. We allow the browser to do what it's designed to do best, which is rendering the application, while server-side code carries the complex processing operations. The sole focus of our approach is on building platforms with higher availability, scalability, flexibility and security.
Cloud and devOps
We accelerate time-to-delivery with reliable DevOps solutions. We work to automate and integrate the processes between the business and software delivery team, in a manner where solutions are developed and released to best serve the business purposes with improved speed, collaboration and reliability.
Test automation
Our automated and end-to-end testing helps to build robust code by increasing the areas combed for discrepancies. We develop long-term, reusable testing solutions that keep human productivity, improved delivery speed and reliable code in mind.
Big data
Traditional data management systems and strategies do not have the capabilities to either manage the volume of data in today's world or extract effective insights from it. Big Data solutions are relevant to any business that wants to make informed decisions. We work with businesses to develop Big Data solutions that boost overall business functions while reducing the time spent on trial-and-error methods and making precise business decisions.
Artificial intelligence
There are endless theories and variations of statistical approaches to solve problems using Artificial Intelligence. The world of Artificial Intelligence is full of multiple approaches that can easily overwhelm any organization that is looking to develop their own solution. It includes, but is not limited to, Machine Learning, Automated Planning, Natural Language Processing and Machine Perception. We work with organizations to choose the right AI solutions that will improve quality, speed and processual overhead across a full breadth of industries.
Internet of things
The ability for interconnected devices to communicate and exchange data among each other via a centralized network is what constitutes IoT. Solutions can be developed for both consumer and industrial challenges. We work with organizations to design and execute IoT solutions, like monitoring asset health in large scale industries using preventive maintenance.
ChatBot development
A major by-product from the wave of Artificial Intelligence Solutions is chatbots, used extensively today in support inquiries. However, the solutions provided by these systems go far beyond giving responses to customers' inquiries. We have developed chatbots to automate internal operations, and work with organizations to create bespoke chatbots that can help with automating routine tasks and streamlining existing human-dependent processes.
05
Enterprise application integrations
Enterprise application integrations
We'll help you equip your silos to communicate with one another and increase your opportunities for cross-functional data designs, to add greater value to your IT ecosystem. This will allow data flow by integrating many siloed data sources, such as pre-built software solutions, application systems, third-party APIs, and ERPs, to build a holistic system with possibilities for capability enhancement.
CRM
Our extensive experience and expertise in CRM means that we can effectively help you integrate your CRM system with your business application stack to ensure optimum data continuity. Integration with CRM is critical in acquiring relevant information on leads, prospects, and clients, especially in customer-centric industries like healthcare. This expands the capabilities of the product and service, allowing your customers to benefit from the most impactful features.
User engagement integrations
We'll help you get better insights on what motivates your users, by running a data-driven customer engagement and product iteration process through user-statistic integrations.  We can quantify the impact of your effort towards customer engagement and enable you to tap into the potential of customer data platforms by aggregating user activity through your websites and applications.
API integrations
We'll enable you to get a wider perspective through API integrations. API integrations make self-sustaining systems possible by bridging information gaps and providing the desired outcome. You'll be able to adopt a cost-effective method of API integrations rather than a rip-and-replace approach, to eliminate discrepancy while keeping the silo systems serving its core purpose. Data synchronizations achieved by API interfaces allow information to flow from beginning to end, resolving any and all information gaps.
Support systems
We'll enable you to create a direct line to your customer base through support system integrations. We will replace undocumented support process with support systems through API integration to enable you to be constantly within arm's reach of your customers, when and how it best suits you. We'll equip your product and services systems to manage all information flows between you and your support employees, whether it's through chat support, email forms, or phone calls, to better serve and create more value for your end-users.
Content recognition
Our approach will remove multitudes of complexity in dealing with unstructured data-like images, videos and audio through content-recognition APIs. Whether it's for automation or synthesizing insightful information through off-the-shelf algorithms, or providing more meaningful personalized recommendations to your customers by running sentiment analysis, integrations have become a necessity to keep a competitive edge. We can reduce the learning curve through our team's experience in image recognition, sentiment analysis and other relevant areas.
Custom service integrations
We'll enable you to move away from one-size-fits-all integrations and towards bespoke integrations to provide your systems with added capabilities. Custom Services Integration allows your system to maintain and focus on its core functions while bringing in additional features to optimize efficiency.
Data collection, sorting and storage
We'll create a single source of truth by integrating all your data silos. Our approach of data collection through integration ensures data availability and reliability, as well as the elimination of data redundancy. We create coordinated links between databases of different applications inside your infrastructure to provide synchronized data flows that address all information gaps and allow for faster, more cost-effective process turnaround. We create data lakes and data warehouses by centralized storage in your IT environment to generate game-changing insights.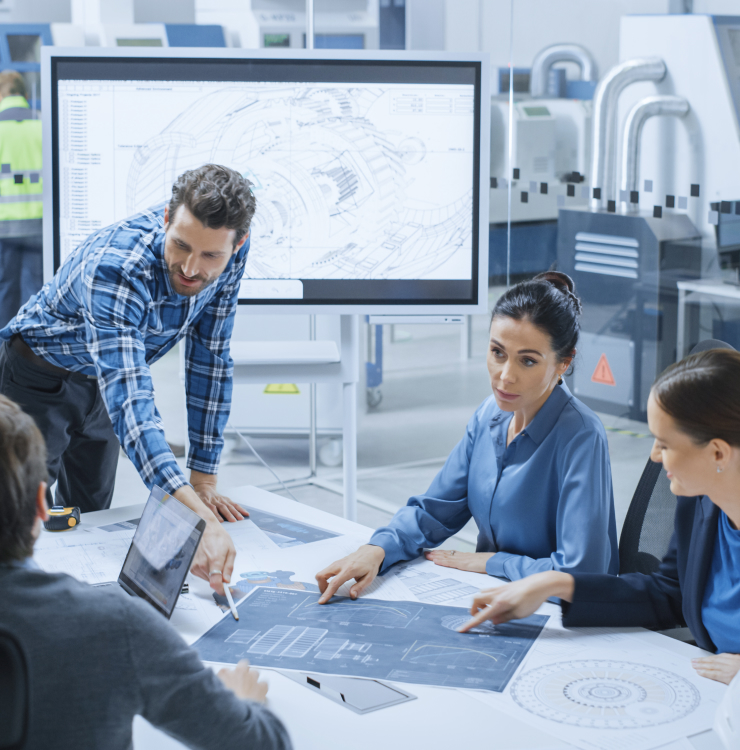 Tech team extension
We'll ensure you can ramp up your resources with our Tech Team Extension, by gaining access to our specialized talent. You'll be able to expand your technical know-how and development capabilities by partnering with our skilled, on-demand technology team who integrate seamlessly into your operations to provide a highly-customized and efficient service.
Create the team
The challenge of limited resources when it comes to developing IT solutions is all too common and one that we are expertly placed to help manage. We can deploy our Tech Team Extension with its breadth of experience - business analysts, architects, designers, technology-specialist engineers, and project managers - with a sharp eye for project-specific needs. We'll function as your true extension. Our team's flexible and growth attitude allows for quick onboarding and orientation to your company's processes and procedures, so you can get your project up and running in no time.
Explore new technology
Keeping up with emerging technology may be more challenging than it appears. New technical capabilities are frequently discussed, but they are often only vaguely understood. You'll be able to leverage our team's competences to address the challenges of various complexities. Our specialized services team can help you explore emerging technology services like Internet of Things, Machine Learning, Big Data, and more.
CTO as a service
You'll be able to focus on your core business while working with our CTO-led synergistic group of technology specialists with experience in a range of technological products across a vast array of industries, helping to give your company strategic advantage. Our CTO as a service (CaaS) provides not only individual knowledge but also collective competence in implementing the most appropriate, well-defined IT strategy that encompasses all activities in the technology division.